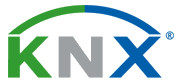 In June 2017 we started the implementation of a new intelligent home project. The project will be almost entirely based on KNX but also on other protocols such as Modbus and M-Bus. Project assumptions:
Total lighting based on DALI (about 200 ballasts)
Most electrical outlets are controlled by KNX,
Full control of underfloor heating and passive cool cooling together with heat pump control,
Integration of a professional weather station with measurements including UV and snowfall detection,
management of heating mats on external sidewalks and access roads,
water circulation management,
operation of the air handling unit with automatic air quality management,
elevator control and swimming pool supervision,
management of the entire power supply system integrated with RES (photovoltaic)
Full-featured two-way video and doorphone integration,
alarm system integration,
Full visualization of the system and implementation of automated scenarios,
operation of an electric car charging station,
building IT infrastructure with active LAN and WLAN devices,
construction of multiroom multimedia system,
As you can see it is a very big project that integrates all the systems. But only this approach guarantees the best results of building a smart home.