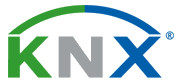 In August 2017 we completed the major part of launching a smart home with an area of about 1000 m2. Over 200 KNX sensors (GIRA, WAGO, ABB), as well as a dozen or so other devices (eg 3 air handling units) integrated with various KNX protocols are installed in the house. More than 500 group addresses were used. The whole functions:
lighting control,
heating and cooling control with passive coolant,
roller blinds, outer and inner blinds and curtains,
air quality management according to set CO2 parameters and humidity,
control of ventilation units,
control of entrance gates and gates,
Bidirectional integration of Mobotix video surveillance system and door intercom with KNX,
Lighting is controlled through more than 100 ports on / off and DALI system supports more than 40 ballasts. Also integrated with the RTN multimedia subsystem is the KNX system and the Satel alarm system. The GIRA HomeServer visualization system is capable of controlling every element of the system, reporting any irregularities and errors that can be controlled remotely. On the basis of visualization, there are several fully automated home behavior scenarios that significantly improve the safety and comfort of life.